United States' Homeless Veterans Scandal;Shame, Shame, Shame ...
United States of America -- Home of the Brave?

HOME?

Huh. Tell that to some marines.

HOME?

Huh. If only, eh?


Can you say sad? Shocking? Sickening? Scandalous? Shameful?


Study: 1 out of 4 homeless are veterans

By Kimberly Hefling, Associated Press Writer

WASHINGTON - Veterans make up one in four homeless people in the United States, though they are only 11 percent of the general adult population, according to a report to be released Thursday.

And homelessness is not just a problem among middle-age and elderly veterans. Younger veterans from Iraq and Afghanistan are trickling into shelters and soup kitchens seeking services, treatment or help with finding a job.

The Veterans Affairs Department has identified 1,500 homeless veterans from the current wars and says 400 of them have participated in its programs specifically targeting homelessness.

The National Alliance to End Homelessness, a public education nonprofit, based the findings of its report on numbers from Veterans Affairs and the Census Bureau. 2005 data estimated that 194,254 homeless people out of 744,313 on any given night were veterans.

In comparison, the VA says that 20 years ago, the estimated number of veterans who were homeless on any given night was 250,000.

Some advocates say the early presence of veterans from Iraq and Afghanistan at shelters does not bode well for the future. It took roughly a decade for the lives of Vietnam veterans to unravel to the point that they started showing up among the homeless. Advocates worry that intense and repeated deployments leave newer veterans particularly vulnerable.

"We're going to be having a tsunami of them eventually because the mental health toll from this war is enormous," said Daniel Tooth, director of veterans affairs for Lancaster County, Pa.
Read the rest of today's heartrending report.
Read it and weep.


Then take a look here, too.


You never know, you just might find a way to help - if you genuinely want to help - in some small way or other.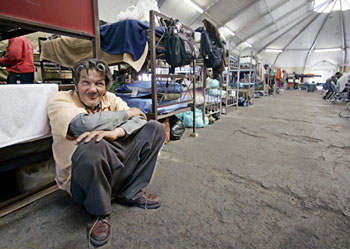 USA?

HOME of the brave?

We very much doubt the guys shown above would agree.
Labels: Afghanistan, Daniel Tooth, homeless, Iraq war, US Vets, veterans, Vietnam