America, Diego Garcia, Britain, Torture, and some slimy Brit poli-turds talking utter tripe ...
*
Good question, eh?

What a pity most of it's many millions of (allegedly), God fearing, good clean living, so called Christians have yet to come up with any sensible, civilised and/or adequate answers.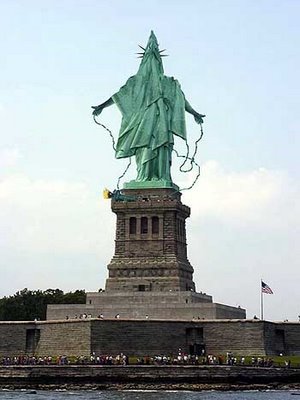 No matter. Most of the rest of the world already knows almost all of the honest answers .

So, what about Britain?

Well, here's a taste of some of the silly shit we saw reported today.



UK 'must check' US torture denial

The report calls for an analysis of US interrogation techniques

The British government should not rely on US assurances that it does not use torture, a report by MPs says.

The foreign affairs select committee said the UK and US differ on their definitions of what constitutes torture and it urged the UK to check US claims.

It recommended the government carry out an "exhaustive analysis of current US interrogation techniques."

(snip)

Given the clear differences in definition, the UK can no longer rely on US assurances that it does not use torture, and we recommend that the government does not rely on such assurances in the future."

The MPs also challenged the government to check more actively that Britain had not been used by the Americans for so called "rendition" flights - when detainees are taken to countries where bans on torture may not apply.

The UK had repeatedly accepted assurances that it had not, but it was discovered earlier this year that two rendition planes refuelled on the ...



... British territory of

Diego Garcia

in the Indian
Ocean.
Read the rest of the relevant report.


Now, here's another good question.

What do our own lousy, lying leaders say they'll do if they do discover that America actually has been abusing/torturing fellow human beings - on British soil?
Yeah. Right. We know.
Sweet Fanny Adams fuck all. That's what. Sodding squat!
(Coss posted at
'appletree'
)
Labels: America, Britain, torture, United Kingdom, United States