So ... We Say Again : Piss Off, Chertoff !!
*
When we were first finding our way around the blogosphere, three years ago, we used to go overboard a bit. (What do you mean, we still do?)
In those early days we were still fascinated with the idea of playing around with multi-fonts and multi-colours.

As a matter of fact, at that time we hadn't even learned how to post links properly.
So, please bear that in mind when reading what we wrote re:
Michael Chertoff,
way back when.
P*SS OFF, CHERTOFF !!!!!!
Sad to say though, the shit didn't do as we asked.
The shit
decided
to say.

Worse still, this same
shit is
still stirring up all sorts of shit in
the
USA - as well as elsewhere.
Witness some of the same sort of shit this same shit is saying today.
US fears Europe-based terrorism



One of the biggest threats to US security may now come from within Europe, US Homeland Security head Michael Chertoff has told the BBC.





He said militant attacks and plots in Europe over recent years had made the US aware of the "real risk that Europe will become a platform for terrorists".





Mr Chertoff said it was likely security checks on travellers from Europe would be increased.
Read the rest of today's relevant report on this rat, right here.
So if anyone on the US side of the pond sees this shitty shyster supreme, before we do, please pass on a message from us.
Ask him if he's not yet heard that
with each passing day, fewer
& fewer Brits (and other Europeans), are remotely interested in even considering setting foot in the US .





Tell him that we all already know better than a lot of Americans do, that modern day Bush-law-unto-himself-America is definitely NOT the place to be.





Tell him to check with US tourism experts if he doubts us. And/or suggest he sit and watch some of the hard-sell commercials we're being bombarded with on Brit TV, on a nightly basis. Absolutely BEGGING us to visit and spend some bucks. While simultaneously offering us some never seen before, cut-throat, knock-down, bloody barmy bargain basement rates.



[Awrh. We simply can't resist saying the same again.
Piss off Chertoff.
Who needs ya? Certainly not many of us over here in Europe. Nope. Not anymore, mister.]

And if someone does accidentally bump into the bum they might also like to ask him why (as uber patriotic as he's supposed to be), he's still not content with holding a regular US passport for himself. And ask him why he still adamantly insists on holding an Israeli one as well.



Dual citizenship/nationality? For a man in such a high (if not the highest), American Homeland Security position?



Homeland security? National security?



Fear? Threat? Real risk?





Er

...

. helloooo?





Haysoo, Maria and Yusef! The junta must be joking.



Seriously, it's still as crazy a smelly Chertoff

kettle of fish as we've ever sniffed. And when we say crazy we mean completely, absolutely crackers.



The whole caboodle is crazy. Chertoff himself must be crazy.



Crazy like a

f*

cking fox

wolf, that is.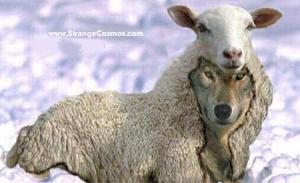 *(Cross posted at Appletree)
Labels: America, Britain, Europe, Homeland Security, Israel, Michael Chertoff, terrorism, United States