US President Richard Nixon Calls Vietnam Ceasefire: Special 35th Anniversary Edition
*
It's thirty five years ago .... to this very day .... since ....
15th January, 1973: Nixon orders ceasefire in Vietnam

President Nixon has ordered a halt to American bombing in North Vietnam following peace talks in Paris.

The decision comes after Dr Henry Kissinger, the president's assistant for National Security Affairs, returned to Washington yesterday from France with a draft peace proposal.
Well, now.
That was mighty big of the (then)
United States President, Tricky Dicky (I am not a crook) Nixon,
wouldn't you say?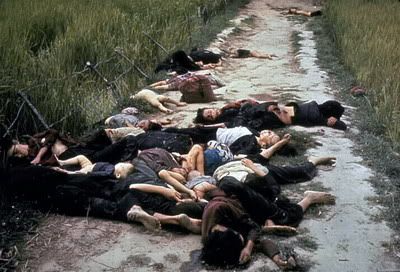 Remember the My Lai massacre of innocent women, young and old? And of their innocent children and babes?
And some thought American "shock and awe" was invented by Donald Rumsfeld, eh?
Then there were those special sorts of shock and awe, saved exclusively for home consumption - cum execution.
Such as the shooting dead at
Kent State,
of (American-as-apple-pie), innocent college kids.
Simply for having the damned audacity to stage some student
war-protesting
-- on their own campus.
Of course, after another 35 years of civilization things have changed a lot in the States. Things are different these days in the Home of the Brave and the Land of the Free.
Right?
Not sure?
Then ask a long standing, dear old American mate of ours, Noel Adamson.
Noel's a Vietnam veteran. Noel's the right stuff. Noel's a proper American patriot.
And, much more to the point -- Noel knows
.
* (Cross posted at Appletree)
Labels: America, anti war, Cambodia, Kent State, My Lai, Richard Nixon, United States, Vietnam, War Crimes