King Abdullah, Queen Elizabeth, George Bush, Dick Cheney, Rich Rogue Rulers And The Rest Of Us ...
Red carpet welcome for Saudi king

King Abdullah of Saudi Arabia has been welcomed ceremonially to Britain by the Queen, amid burgeoning controversy over the Middle Eastern ruler's stay. The Queen greeted him on Horseguard's Parade at the start of his first visit to the UK in 20 years.



The Lib Dems and some charities said the visit should not take place because of the kingdom's human rights record.
And, apparently a few Lib Dem MPs and some charities weren't the
only
people protesting.
Read the rest of the 'protests' report.
Originally, we intended at this particular point to pass some super-strong personal opinions regarding a few little things like 'laying down with dogs and getting fleas' - 'birds of a feather sticking together' - 'as thick as thieves' - 'partners in crime' - 'blood brothers' and some similarly sickening stuff -- but then we had some second thoughts.
After all, at our age we should know better than to lose our heads - over anything.
Eh?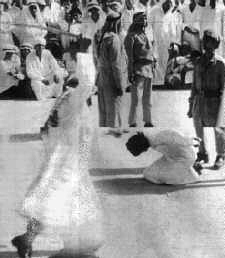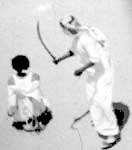 The good and the great, eh?



Labels: beheadings, Dick Cheney, George Bush, King Abdullha, public executions, Queen Elizabeth, Saudi Arabia