Finale: Luciano Pavarotti Passes ...
The way things have been going around here recently one could be forgiven for thinking this was becoming a bit of an 'Obituary Blog'.

Luciano (Lucky) Pavarotti, the man who brought opera to the masses - though perhaps it would be more precise to say this marvelous man brought the masses to opera - has sadly bid his millions of fans worldwide, his final farewell.

His long running battle against pancreatic cancer is over; the maestro's pain is no more;for Luciano, the curtain's fallen for the last time. The final, finale is finished.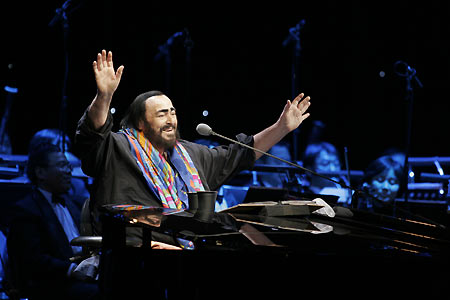 To do proper justice to this mountain of a man and his magnificent (almost magical), musical talent and career would take us however long it takes to write a book;a bumper, big thick book to boot.

So, we'll simply leave you to look at, listen to and enjoy this lovely little video of the master himself with two of his bestest tenor buddies, Jose Carreras and Placido Domingo - as the tremendously talented trio take delight in delighting their audience with their super rendition of 'O Solo Mio'.



Bravo! Bravo, boys! Bravo!
Incidentally, we can't help but think that a king called Elvis would have enjoyed this enormously.
Remember the huge hit he had with 'It's Now or Never'?



Labels: Luciano Pavarotti