Liverpool's Shame:The Shooting Of Little Rhys Jones ...
Time was when we used to take pride in being British. Time was when we loved being labeled Liverpudlians. Time was when we cherished our 'scouser' heritage.

But time's a terribly tough taskmaster, and as ever was the case, the times they are a'changing.

And not always for the better. Indeed, lately, sad to say, far too often for the worse.

Witness what follows.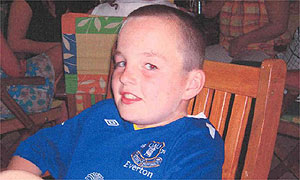 Read this and weep.
Seven held over Rhys Jones murder

Saturday August 25, 2007 - Guardian Unlimited

Seven people, including two girls, were being held tonight over the killing of 11-year-old Rhys Jones.

Six of them were arrested in raids today around the Croxteth area of Liverpool where the schoolboy was shot on Wednesday.

Police were granted an extension to detain the sixth, a boy of 15 who was arrested yesterday.

The six people taken custody today were boys aged 15 and 16, a man aged 19 and girls of 15 and 18. The 19-year-old needed hospital treatment after falling from the back window of his home apparently trying to escape arrest. Another 19-year-old was also arrested later in the afternoon.

Rhys was killed by a teenager on a BMX bike who fired bullets from a handgun as the young football fan walked home with friends across a pub car park.

Two bullets hit a car but a third hit Rhys in the back of his neck.

He died as his mother Melanie, who had run to the scene from their home nearby, held him in her arms.
Read the rest of this heartrending report.
As we said at the outset, we used to be proud of this place.
But that was then.
THIS - is now.
So who's to blame?
Parents? Police? Schools? Teachers? Government? Judiciary? Legal profession? Arms dealers/gun runners? Our children? Ourselves?
To varying degrees - and though it hurts us like hell to have to say it - we believe the actual answer is "all of the above."
Yet at the same time, we soooo sincerely want (several) certain somebodies to prove us completely wrong.
Labels: gun crime, killing, Liverpool, murder, Rhys Jones