Second brutal British bobby suspended re: second violent "incident"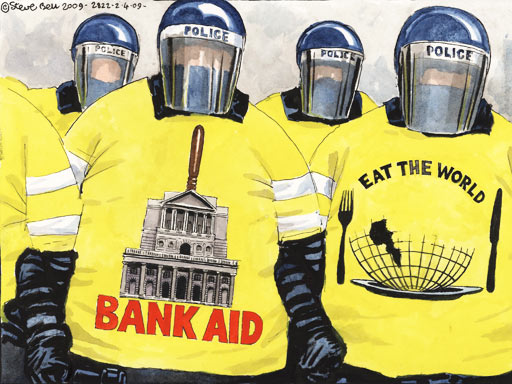 We see that a second British bobby (this time a giant of a sergeant) is suspended from duties as a result of another video coming to light showing how he summarily dealt out his own personal brand of "justice" to a young female who allegedly used some naughty words during recent the G20 protests.

Since we can't think of anything else to say that we didn't say a few days ago regarding our once highly regarded and respected police, we'll let The Guardian's cartoonist, Steve Bell's picture do the talking this time.

Here's a quick cut & pasted taster about this most recent example of an obviously "broken" British police service.


A police sergeant seen in video footage apparently hitting a woman during the G20 protest in London has been suspended, Scotland Yard has said.

The officer appears to hit the woman in the face with his hand and then the leg with his baton after she swears at him.

The Independent Police Complaints Commission - already investigating the death of Ian Tomlinson during the 1 April protests - is examining the case.

The Lib Dems say it shows there is a systemic problem and want an inquiry.

Officers 'accountable'

The latest video footage featuring the female protester has been passed to the IPCC, a Scotland Yard spokesman said.

"The officer has been identified and suspended pending further investigation. The officer works as a sergeant in the territorial support group," he added.

Earlier, police said the apparent actions of the officer featured in the footage raised "immediate concerns".
Read the rest of this report and see this sickening incident for yourself.


(Cross posted across at 'appletree')

Labels: Britain, England, Europe, G20, Great Britain, Police, protests, video footage