About the death of Mr Ian Tomlinson and Britain's 21st century Big-Brother-Bully-Boy-Bobbies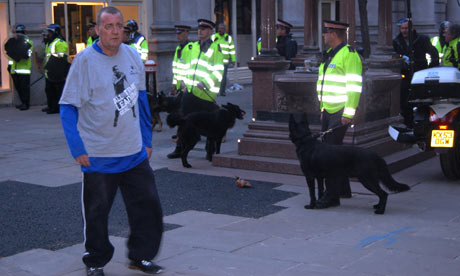 The unfortunate London newspaper seller shown above is Ian Tomlinson
Shortly after this picture was taken, Ian Tomlinson was dead ... thanks entirely to a big brave British bobby's cowardly assault/attack.
(The term 'big brave' is obviously sarcasm, of course.)

The innocent victim's family are urgently appealing for witnesses.

Well, anyone who sees, has seen or will see the film footage that can be found at our link below below can witness first hand exactly what happened.

Including seeing the sadistic, helmeted and uniformed little shit who shoved and battoned this poor man ~ from behind. That's right, from behind. And so self evidently without any just cause.


See for yourself then you be the judge.


We say (along with many, many more) that any outcome other than a manslaughter charge being brought against the police officer concerned, will be a crime in itself.
NO perpetrator is above the law of this land simply because they wear a f*cking uniform ~ ANY uniform.
Justice must be done. Moreover, justice must be seen to be done.

If, in present day Britain, innocent working men & women simply going about their peaceful business and living their everyday perfectly legal lives, are not safe from those who are supposed to be duty bound to protect them, then God help us all.

What a crying sodding shame that this once great country should ever have come to this.

We wonder whether there will be a 'whitewash'. We fear that there may be. We hope that there wont be.


There's much more on this right here.
And before anyone else says it, yeah, we know that all police officers are not the same. However, as we see it, an increasing number of them are certainly, to say the least, "not fit for purpose".
Labels: big brother Britain, Britain, civil liberties, civil rights, crime, England, G20, Ian Tomlinson, London, Police, UK