Blair's "Bah, Humbug!" To London Bomb Victims ...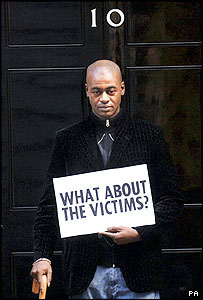 Someone should seek out some transcripts of several Tony Blair speeches -- and shove them straight up where the sun don't shine.

I speak of course of his serial shit-spewing regarding 'protecting' the British people, and his [oh, so compassionate] concern for our well being and welfare.

Right now, I'd readily risk real money [if I had it] at my local bookie's shop, that the ten thousand signatories to this petition would willingly wait patiently in line, for the privilege & pleasure of participating -- in said ceremonial shoving.

As would, no doubt, all their nearest and dearest.



Bomb victims in payouts protest

Garri Holness [pictured above] lost part of his leg in the 7 July bombings

Survivors of the 7 July London bombings and relatives of those killed delivered a 10,000-signature petition to Downing Street demanding better pay outs.

Many say they had no financial help and described the compensation scheme as slow, inadequate and insulting.
Sounds about par for the Blair boys' course, I'd say -- "... slow, inadequate and insulting".


Government rules mean bereaved families get £11,000 and the maximum for the seriously injured is £500,000.
Geeze. What generosity. Eh?


After the 11 September attacks, families of those killed received about $2m (£1.1m) from the US Government.
Even his blood-brother Bush with his so called, compassionate U.S. conservatives cared more for their innocent victims of terrorism than the phony Blair government does.


London bombing victims want the government to abolish the ceiling on compensation, as well as immediate help for victims and guaranteed long-term financial security for survivors.
And why not?

After all, it was the Downing Street poodle himself who virtually painted the big 'bulls-eye' on Britain's capital city, when he illegally went waging war in Iraq -- shoulder to shoulder with the Pennsylvania-Ave-dwelling, dolt.


Stacy Beer, 24, whose brother Phil, 22, from Borehamwood, Hertfordshire, died in the Piccadilly Line blast, said she was angry the families had been left to take action themselves.

"You cannot put a price on a person's life. No amount of money will bring them back, but money will help the survivors - it will help them rebuild their lives."
Brava, Stacey; well said.

Earlier this week Prime Minister Tony Blair said ......

Wait for it.


" ... a new scheme could be established to pay compensation to UK victims of terrorism".
Yes, Prime Minister. Of course it could be.

And pigs, I suppose, could be conned into believing they could -- maybe one day, some day, somehow -- be convinced that they could, maybe even effing fly.

Grrrr. Gawd, gimme strength.

Best you read the rest on your own I think.

Because right now I'm reading my rapidly rising blood pressure as a sign.

A sign I should go do a Garbo.

'Cos I'm angry again - and I want to be [left] alone.


http://news.bbc.co.uk/1/hi/england/london/4363040.stm