Israeli war crimes against Gazans : straight from the horses' mouths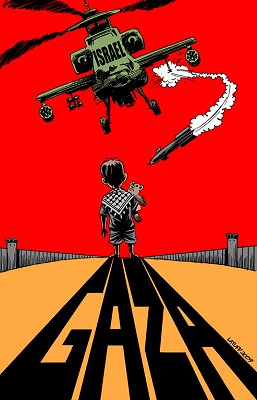 Since we've already said it all, so many times before, this time we're staying schtum, and letting some IDF soldiers speak for themselves.


It had become increasingly evident during the beginning phases of the most recent Gaza War that the lives of ordinary Gazans had been unjustly taken or adversely affected. The systematic demolition of homes, the inappropriate usage of white phosphorus ammunition, the excessive application of violence have been called into question by various internal and external bodies and actors. As time progresses accurate, detailed, firsthand accounts concerning what truly occurred during the 22 day military campaign are surfacing.

One such attempt at exposing the events during the Gaza War was undertaken by the Israeli organization Breaking the Silence. This organization is comprised of veteran Israeli soldiers who compile testimonies from Israeli soldiers who have served or have been witness to operations in the Occupied Territories. These testimonies are then disseminated to an English and Hebrew speaking audience on their website, by print, though lectures, via other media outlets and through tours conducted in the West Bank city of Hebron.

Breaking the Silence released a 112 page document under the official codename for the Gaza war - Operation Cast Lead. This document contains testimonies from thirty Israeli soldiers who participated in the campaign. The revelations contained within corroborate many of the allegations of reprehensible wartime conduct and "[brings] into question the credibility of the official IDF versions".

The interviews conducted explore the usage of white phosphorus, destruction of property unrelated to Israeli directives, the demolitions of homes, the use of Palestinians as human shields, the overall moral degradation of the IDF among other pertinent issue. As noted in the document, these testimonies directly challenge the IDF claim that any moral issues are not systemic, but rather concern the behavior of individual delinquent soldiers.
Read the rest of this revealing report right here.
**(Cross posted across at
'appletree'
)
Labels: Breaking the Silence, Gaza, IDF, Israel, Palestine Monitor, war criminals