A bit about the United Nations, Americans, Israelis and Palistinians : It's the media, stupid !
Today, we offer our true thanks to one of our well respected reader/commenter/blogger buddies, for unearthing and sharing the video which follows further down.

Seemingly, she's still too shy to be listed on our (or anyone else's) blogroll, so we're pleased to respect her personally expressed wish on said subject. Unless and/or until she says otherwise of course.


We sincerely believe that absolutely everyone should see this.


Especially, those of our readers residing in America. Be they for us or against us.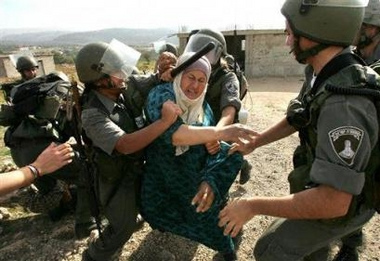 And please, people everywhere, always remember this:

The greatest sedition is silence - and - in the end,
it's the truth that sets us all free.


**N.B. Professional (and/or even amateur) nit-pickers, naysayers, straw men/women, etc, definitely needn't endeavour to 'enlighten' us that all of these photographs weren't taken this week. Nor, that neither the video nor clips therein neither are nor have been, updated by the day. Since what matters most is simply that certain scenes are seen, shared, and passed on. Then, let those that have any eyes and intelligence at all judge for themselves, then draw their own conclusions.

Now, we simply couldn't close without relating this tid-bit.

Earlier today we passed on the video elsewhere. One particular nit-picker (in America) watched it, then proceeded to blah, blah, thus. Everyone knows that the Palestinians did this, that and the other - all the wrong things, of course -- while everyone also knows that Israel did this, that and the other - all the right things, of course.

Being a serial consumer, for goodness knows how long, of the very media being mentioned, no doubt contributed greatly to him/her entirely missing the main point.

Moreover, he/she asked how peace with the bad, bad Palestinians could possibly be made. Obviously, he/she couldn't comprehend even the opening screened information regarding the United (civilised) Nations' clear/concise directive re: Israel's internationally illegal occupation - in which it (UN) quite categorically decreed that Israel should end it forthwith.

Up to the very instant of our writing this sentence, so many, many, many years later, Israel still steadfastly defies the United (civilised) Nations. The United (civilised) Nations, that is, of this planet Earth.

We didn't have either the time or inclination to suggest to him/her that the blindingly obvious way to make peace possible was simply for Israel to stop ignoring the United (civilised) Nations. The United (civilised) Nations, that is, of this planet Earth.

*(Cross posted acros at 'appletree')

Labels: America, anti war, crooks and liars, Gaza, Gaza strip, Israel, massacre, media whores, Palestine, Palestinians, United Nations, United Sates, war