Some Special Messages We Want to Send to Some Certain Shmucks...
We've always been big believers in fairness, equality, honesty, free speech and straight talking.

So, after recently citing Israeli ogre Olmert, today we want to pass on a message to politicians in general and to British politicians in particular.

"If the cap fits, fellas ... flippin' well wear it."

And here's an even stronger message for the same conniving, cretinous crew of crooks, via the great British public at large.

Our priggish, parasitic, politico plonkers should ignore it at their peril, since pretty shortly absolute 'masses' of people will once again be voting with their votes.
(snip)

An annual analysis of perceived corruption showed the UK had dropped from a score of 8.4 out of 10 to 7.7 out of 10 in the last 12 months - the first time it has ever fallen below 8.

(snip)

The score put the UK joint 16th on Transpancy International's latest 'Corruption Perceptions Index (CPI)', alongside Ireland but one place above the USA.


Read the rest of this revealing report to see how some other supposed civilised democracies are perceived by their own citizens.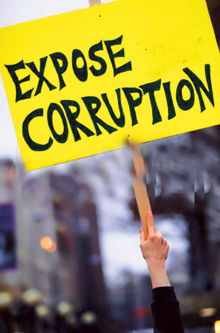 (Cross posted at 'appletree')

Labels: Britain, British politicians, corruption, crooks and liars, elected officials, politics, United Kingdom